It's an incredible feeling to finally slow down and embrace the vacation mode. The spring has been truly remarkable, in many ways. We have had numerous research projects granted, further fortifying the innovation level at the Application Center for Additive Manufacturing (AM Center). The projects themselves are varied in character, and explore everything from design and simulation to sustainability and circularity.

One of the initiatives, 3D-Action, has been highly active these past months. In addition to a successful seminar on sustainability, we conducted a week-long course for five different SMEs. The course yielded exceptional results, with the participating companies now expanding their AM activities, and even investing in the technology.

In May, the AM Center hosted its inaugural Partner Conference, which was an outstanding two-day event. It provided an invaluable opportunity for all our partners to meet in person for the first time. The conference showcased and reviewed all ongoing projects, allowing everyone to gain a comprehensive understanding of the center's activities. AB Volvo (specifically Volvo GTO) emerged victorious in a challenging conference quiz, earning them the prestigious AM Center Cup: a 3D-printed impeller created using the Directed Energy Deposition technology.

Speaking of conferences, I am thrilled and delighted to announce that RISE has entered into a phenomenal partnership regarding the fourth edition of Additive Intelligence 4.0, planned for next year. More about that further down.

Last but not least, I would like to express my sincere gratitude to all our partners, colleagues, and customers for their collaboration throughout the spring. I eagerly look forward to the exciting endeavours that lie ahead in the coming fall.


The Competence platform for additive manufacturing, or COMPASS II, is a two-year project with the purpose of strengthening the knowledge and collaboration within additive manufacturing along the entire value chain.

The project concentrates on various technologies, such as DED and HIP, from a number of perspectives, including digitalization, sustainability, logistics, business models and electrification.

COMPASS II is funded by Västra Götalandsregionen (VGR).
Read more about COMPASS II
It was not a given for Västra Götalandsregionen to fund Application Center for Additive Manufacturing or its projects. But fund them they did. In fact, AM became one of the largest industry high-tech funding areas in the VGR portfolio. Why? We have interviewed Hans Fogelberg, R&D expert at Västra Götalandsregionen.
Read the full article
Innovative modelling strategies for additive manufacturing processes, iMAT, is a three-year project that aims to increase the competitiveness of the manufacturing industry by further developing sustainable additive manufacturing (AM) for challenging components. The ultimate goal is to enable manufacturing of components free from design defects.

iMAT is funded by Vinnova.
Read more about iMAT
Volvo Cars has committed to becoming a circular business by 2040. A challenge that, according to themselves, is one of the biggest they've ever faced. The use of recycled and bio-based materials is part of the solution, as is additive manufacturing. We have talked to Torbjörn Larsson, Senior Principal Engineer, and AM Expert at Volvo Cars.
Read the full article
Additive manufacturing of single components is already mastered by many, but how do you go about scaling up production? Find out at 3D-Action's fifth insight seminar, "Industrialisation of additive manufacturing" on September 12!

When: September 12, 2023
Where: Trollhättan, Sweden
Cost: Free of charge
About 60 people joined 3D-Actions fourth seminar "Sustainability through additive manufacturing" in Borås on April 25. Among the speakers were Jon Erik Borgen from Ocean Tech Hub LDA and Marcel Escursell from SKF, who tackled the topic at hand from two very different perspectives: turning discarded fishing nets into designer furniture, versus using laser cladding to prolong a product's lifespan.
Read the report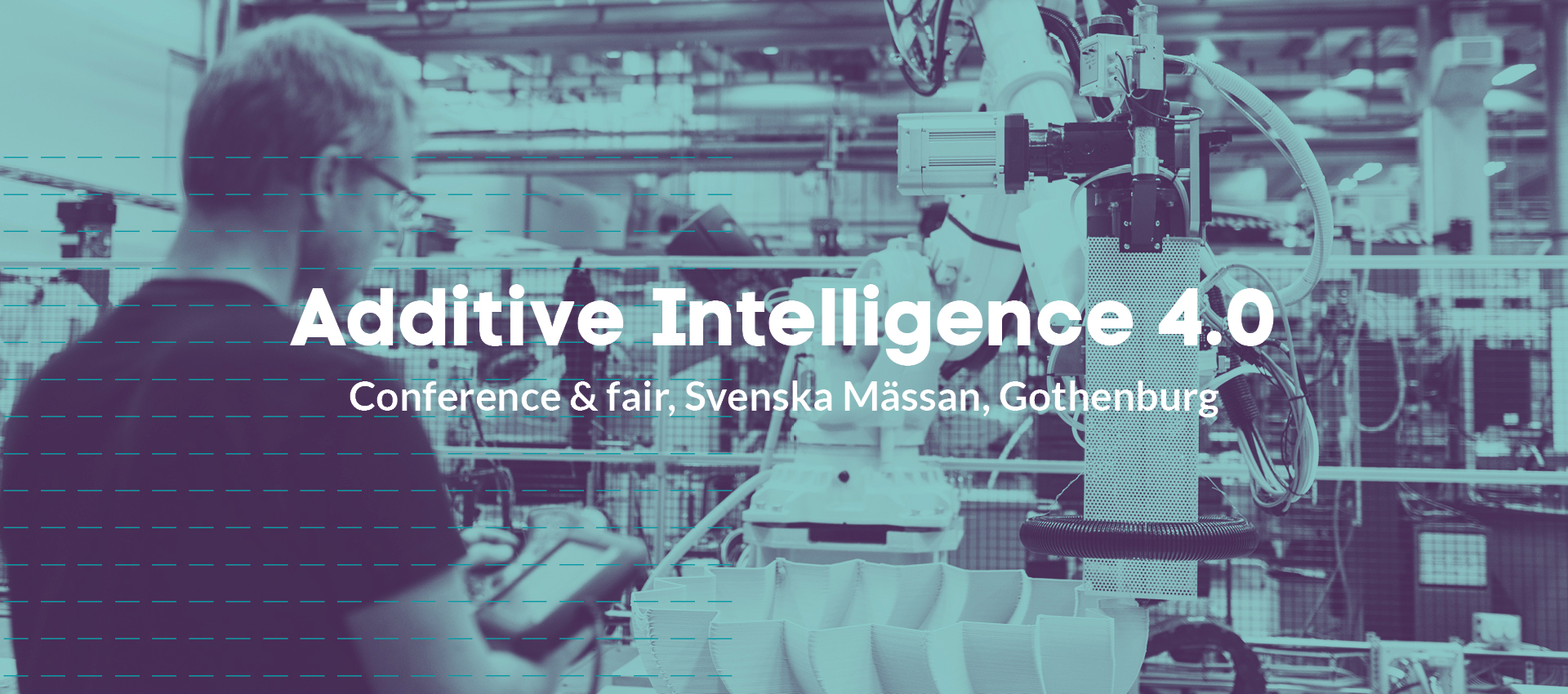 You may have heard the rumours, but now we have the privilege to confirm that Additive Intelligence 4.0 will return in March, 2024! The fourth edition of the conference and associated fair will be held at Svenska Mässan, Gothenburg, in close cooperation with the Maintenance Trade Fair and the association for Swedish Additive Manufacturing, SVEAT.

"We see very positive synergies between Additive Intelligence 4.0 and the Maintenance Trade Fair, which also has a strong focus on additive manufacturing. We believe that this set-up will be beneficial for present and future visitors, delegates and exhibitors alike", says Anders Persson, business manager for the Maintenance Trade Fair.


When: March 12-13, 2024
Where: Gothenburg, Sweden
Large scale robotic FDM (Fused Deposition Modeling) additive manufacturing is the process of creating large and complex objects by depositing layers of material using a robotic arm with an extrusion nozzle. This technology allows for the creation of parts up to several meters in size, enabling the production of large structures such as aerospace molds, boats, buildings, bridges, and even entire homes.
Learn more about IRBAM
Design for additive manufacturing (DfAM) is crucial in understanding and predicting how additively manufactured components will behave physically, and whether they will meet the performance requirements. Our virtual testbed offers the opportunity to explore the interaction between part and process design. Competence, hardware, and software covering all steps in the development process are available at the AM Center.
Read more about DfAM
Do you want to learn more about design for AM in parallel to your work? The Design for Additive Manufacturing course at Campus Värnamo is available through distance learning, and designed specifically for you to be able to work at the same time. We aim to build competence in design for AM and carrying out redesign for qualitative and sustainable additive manufacturing. You are also able to choose printing technology and materials for printing.
Learn more and apply
On May 10-11, the Application Center for Additive Manufacturing arranged an internal conference for all its partner companies at Chalmers Technical University in Gothenburg. Being the first conference of its kind, it was a unique opportunity for everyone to meet in person. During two intense yet memorable days, experiences from different fields were exchanged, case studies shared, synergies found, and connections made. In short, mission accomplished! We hope to see you all at next year's conference, Additive Intelligence 4.0, which will be open for everyone.
Open Technology Day is back! This year's theme is Sustainable manufacturing processes for the future. On the agenda you find topics such as electrification, circularity, manufacturing processes and advanced possibilities for design and analysis. You will also be able to take a tour of our testbeds. Open Technology Day provides an opportunity to talk to RISE experts in several areas, including additive manufacturing, AI design, and casting.

When: September 27, 2023
Where: Mölndal, Sweden
Cost: Free of charge

When using plastic materials for additive manufacturing, nanoparticles are released into the air. The particles are so small that they are difficult to measure using traditional methods.

Anna Bredberg at RISE has, together with her research team, been awarded SEK 1,480,000 to investigate the content and shape of the nanoparticles to which the printer operators may be exposed. They will also examine whether the material used in the manufacturing of plastic products is toxic and if the particles formed are present in the operators' respiratory pathways.

The project will run until September 2026. Information about the content and shape of the particles will illustrate any risks associated with the work and enable the development of relevant protective measures.